1. OUR DARK DUET by Victoria Schwab

Nearly six months after Kate and August were first thrown together, the war between the monsters and the humans is a terrifying reality. In Verity, August has become the leader he never wished to be, and in Prosperity, Kate has become the ruthless hunter she knew she could be. When a new monster emerges from the shadows—one who feeds on chaos and brings out its victim's inner demons—it lures Kate home, where she finds more than she bargained for. She'll face a monster she thought she killed, a boy she thought she knew, and a demon all her own.
2. THE GENTLEMAN'S GUIDE TO VICE & VIRTUE by Mackenzi Lee
A young bisexual British lord embarks on an unforgettable Grand Tour of Europe with his best friend/secret crush. An 18th-century romantic adventure for the modern age written by This Monstrous Thing author Mackenzi Lee—Simon vs. the Homo Sapiens Agenda meets the 1700s.
3. SID AND TEDDY by H. D. Knightley
Sid and Teddy are best friends. They surf together. They love each other. And maybe finally it's time for them to be together — but tragedy strikes and interrupts their perfect first kiss, and they get completely stuck in Interrupted.
Because it's hard to love each other when you've been best friends forever. It's complicated. And the last thing Sid needs is complicated, right?
She needs easy. She needs to take fate by the hand and follow. She needs a hot rock star with a sexy British accent and a lickable jawline to kiss her sadness away.
Probably. But rock stars come with baggage. The kind of baggage that causes Sid to lose her way.
And lost, she desperately needs her best friend Teddy, but is it too much, too late?
4. BAD ROMANCE by Heather Demetrios
Grace wants out. Out of her house, where her stepfather wields fear like a weapon and her mother makes her scrub imaginary dirt off the floors. Out of her California town, too small to contain her big city dreams. Out of her life, and into the role of Parisian artist, New York director—anything but scared and alone. Enter Gavin: charming, talented, adored. Controlling. Dangerous. When Grace and Gavin fall in love, Grace is sure it's too good to be true. She has no idea their relationship will become a prison she's unable to escape.

5. WORDS IN DEEP BLUE by Cath Crowley
Years ago, Rachel had a crush on Henry Jones. The day before she moved away, she tucked a love letter into his favorite book in his family's bookshop. She waited. But Henry never came.
Now Rachel has returned to the city—and to the bookshop—to work alongside the boy she'd rather not see, if at all possible, for the rest of her life. But Rachel needs the distraction. Her brother drowned months ago, and she can't feel anything anymore.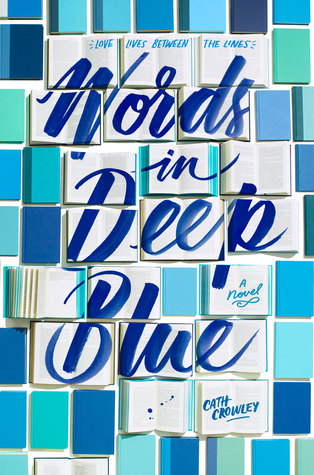 6. THE IMPOSSIBLE VASTNESS OF US by Samantha Young
India Maxwell hasn't just moved across the country—she's plummeted to the bottom rung of the social ladder. It's taken years to cover the mess of her home life with a veneer of popularity. Now she's living in one of Boston's wealthiest neighborhoods with her mom's fiancé and his daughter, Eloise. Thanks to her soon-to-be stepsister's clique of friends, including Eloise's gorgeous, arrogant boyfriend Finn, India feels like the one thing she hoped never to be seen as again: trash.But India's not alone in struggling to control the secrets of her past. Eloise and Finn, the school's golden couple, aren't all they seem to be.
I hope you're as excited to read these as I am!
H.D. Knightley